The Bike Shop is a 3x3 Retail and Summer business in CityVille.
It costs

 2,200 Coins to buy and takes

 3 Energy to build. At Level 1, supplying it consumes

 70 Goods and collecting from it earns

 308 Coins; Level 2 requires

 100 Goods and earns

 440 Coins, and; Level 3 requires

 130 Goods and earns

 572 Coins. The Bike Shop has an efficiency of 4.4 coins per good at all levels.
Upgrading this to Level 2 requires the player to collect from this 50 times; Level 3 requires this to be collected from an additional 100 times. The appearance of this does not change when upgrading.
This business can be franchised for

 2,000 Coins.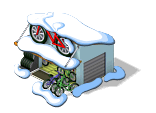 Possible Item Drops
Edit
Collecting Bonuses
Edit
| Chance | Reward |
| --- | --- |
| 85% |  1 XP |
| 15% |  2 XP |
| Direction SW | Direction SE |
| --- | --- |
| | |