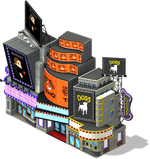 Broadway is an 9x3 building in CityVille. It can be placed from a pop-up announcement that appears if you are

 Level 20 or above. You can only have one Broadway building.
It is made up of three individual buildings, all working in the same way as hotels with the exception that neighbors cannot reserve rooms. Each of these "hotels" require 30 materials,

 9 Staff Members, and

 9 Energy to complete. Each building resembles a real-life show with it's decor, staff and name - Tiger Prince resembles The Lion King, Dogs resembles Cats, and Fantasm resembles The Phantom of the Opera.
Sending it to your Inventory resets all progress made towards completing it.
Buildings
Edit
Dogs Theater:
Fantasm Theater:
Tiger Prince Theater: