---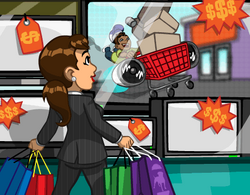 Businesses are buildings which provides a player with coins, experience (XP) and collection items. One energy is needed to collect from a business. Goods or Premium Goods are also required to supply businesses in order for them to operate. New businesses can be obtained by reaching a certain level, increasing population, completing certain goals or collections, or having a certain amount of neighbors.
With the exception of the Empty Lot, all businesses start out as only a framework in the form of a construction site, which must be built to complete the construction. After completion, supply the business with goods/premium goods and let customers visit. When the goods are sold out from serving the maximum number of customers, a business will be available to be collected. Its earnings can vary depending on factors like the bonus payout from decorations or landmarks.
A player may start a Franchise by building a Business identical to their own in a neighbors's Empty Lot. These shops are handled by the mayor of the city where they stand. Once every 24 hours you can supply each shop from the Franchise Headquarters as well as collecting income. Regardless of the activity of the owner of the store's location, the needed supplies and the payout will be the same. However, the neighbor will need to accept supplies on a daily basis or else the player will not be able to send more.
Many active players may find businesses more profitable than Housing.
As of May 18, 2011, businesses can be upgraded to supply more goods and serve more customers for higher earnings. See Business Upgrades for details.
Building a New Business
Edit
Businesses can be found in the "Businesses" tab of the Build Menu. If unlocked, the player will need to have enough Coins or Cash to purchase the business. Some businesses require the player to be at a certain level, have a set amount of neighbors, have a particular population or have completed one of the game's goals in order to unlock for purchase.
Like houses and community buildings, businesses require building and are basic construction zones when they are originally placed. The construction zones are the same size as the building will be upon completion. The player then must use their energy to complete the building. This can vary from building to building - some businesses require 3 build actions (thus

 3 Energy), and others can require 7 or 8 build actions, or more. Your neighbors can help you with building when they visit your city - if your building is incomplete, they can use one of their help actions to boost it.
Once the build actions are completed, the building becomes ready to use immediately, unlike community buildings. But only if it is connected to an asphalt road or a sidewalk.

Before a business receives goods for the first time, it is surrounded with balloons to suggest a "grand opening". As soon as the player provides a business with its first supplies, the balloons will detach from the building and float away. When you open a new business, many citizens will go to the shop.
Maintaining Businesses
Edit
To keep businesses running, a player will be required to supply it with goods. These goods can be collected by the player through farming, shipping, trains, a Goods Factory and other methods. Unless the business is fully stocked with supplies, citizens cannot shop there. If a player does not have enough goods to cover the full supply needed (e.g. 140 goods for a Cinema), they can't supply it.
If there are premium goods and regular goods available in storage, the regular goods will be used first and the remaining deficit will be taken from the premium goods. For example when supplying a Cinema (which requires 140 goods) and there are 100 premium goods in storage and only 40 regular goods, the business will automatically take the 40 regular goods before consuming the 100 premium goods.
Once a business has received supplies of goods, citizens will begin visiting the business. A player can monitor how many people have visited their business by hovering over the building with the cursor. It will read, for example: "Served: 17/110".
The speed between delivering new supplies and the building becoming ready for collection depends on how many citizens the city has (population), the happiness of the population, the presence of tourists, and how many other businesses are also supplied.
Therefore, if a player supplies their Sushi Bar and has no other supplied businesses, their citizens will only have one place to shop - so it will be ready for collection very quickly. A player with a low population will find their businesses become ready for collection much slower than a player with a very high population. Tourists will spend twice as more at businesses than normal residents.
Businesses
Edit
For complete list of all businesses, click here.
For list of only upgradable businesses, click here.
Here is the list of Downtown Businesses.
The following chart consists of businesses that are permanently on the Build Menu or else available from other ways. Does not contain limited edition or upgrades. It also does not include businesses created after the release of Downtown CityVille.
Image
Business
Cost
Earnings
Supply
Size
Requirement(s)
Coins per Good
Collections to Profit
Franchise Cost
Can Upgrade
Empty Lot
 0 Coins
Varies
Varies
4x4
Increasing Neighbors
Varies
n/a
n/a
Bakery
 200 Coins
 40 Coins
 10 Goods
3x3
 10 Population
4
5
 160 Coins
Level 3
Flower Kiosk
 400 Coins
 95 Coins
 25 Goods
3x3
 30 Population
3.8
5
 320 Coins
Level 3
Coffee Shop
 600 Coins
 320 Coins
 100 Goods
3x3
 50 Population
3.2
2
 480 Coins
Level 3
Toy Store
 800 Coins
 180 Coins
 50 Goods
3x3
 100 Population
3.6
5
 640 Coins
Level 3
Burger Joint
 1,000 Coins
 240 Coins
 75 Goods
3x3
 150 Population
3.2
5
 800 Coins
Level 3
Taco Truck
 1,000 Coins
 180 Coins
 50 Goods
3x3
3.6
6
n/a
Video Game Store
 1,300 Coins
 50 Coins
 10 Goods
3x3
 8 Neighbors
5
26
 1,040 Coins
Level 3
Diner
 1,600 Coins
 230 Coins
 50 Goods
3x3
 350 Population
4.6
7
 1,280 Coins
Level 3
Fast Food Chicken
 5,000 Coins
 178 Coins
 40 Goods
3x3
4.45
n/a
St. Patty's Pub
 1,800 Coins
 188 Coins
 40 Goods
3x3
 Level 9
4.45
n/a
n/a
Cosmetic Store
 1,900 Coins
 120 Coins
 25 Goods
3x3
 400 Population
4.8
16
 1,520 Coins
General Store
4x4
n/a
n/a
Quick Stop
4x4
n/a
n/a
Shamrock Sing-A-Long
 2,100 Coins
 405 Coins
 90 Goods
4x4
 Level 9
4.5
6
n/a
Level 3
Ice Cream Parlor
 2,200 Coins
 308 Coins
 70 Goods
3x3
 Fourth Of July Fever!
4.4
8
n/a
Level 3
Barbecue Restaurant
 2,500 Coins
 338 Coins
 75 Goods
3x3
 Oooo, Aaaah
4.51
8
n/a
Pool Hall
 2,200 Coins
 420 Coins
 100 Goods
4x4
 450 Population
4.2
6
 1,760 Coins
Juice Bar
 8,000 Coins
 675 Coins
 150 Goods
3x3
4.5
n/a
n/a
Greek Restaurant
 2,500 Coins
 330 Coins
 75 Goods
3x3
4.4
8
 2,000 Coins
Indian Restaurant
 2,500 Coins
 330 Coins
 75 Goods
3x3
4.4
8
 2,000 Coins
Thai Restaurant
 2,500 Coins
 330 Coins
 75 Goods
3x3
4.4
8
 2,000 Coins
Taqueria
 2,500 Coins
 330 Coins
 75 Goods
3x3
 Level 10
4.4
8
 2,000 Coins
Candle Shop
 2,500 Coins
 420 Coins
 100 Goods
3x3
 Level 10
4.2
6
n/a
Level 3
Fiddle Shop
 2,400 Coins
 258 Coins
 60 Goods
3x3
 Level 10
4.3
10
n/a
Bike Shop
 2,500 Coins
 330 Coins
 75 Goods
3x3
 9 Neighbors
4.4
8
 2,000 Coins
Level 3
Bookstore
 3,000 Coins
 430 Coins
 100 Goods
3x3
4.3
7
n/a
Level 3
Comic Book Store
 10,000 Coins
 425 Coins
 100 Goods
3x3
4.25
n/a
n/a
Packing Store
 3,000 Coins
 430 Coins
 100 Goods
3x3
 Open Packing Store
4.3
7
n/a
Shoe Store
 3,500 Coins
 572 Coins
 130 Goods
3x3
 700 Population
4.4
7
 2,800 Coins
Noodle Shop
 4,000 Coins
 405 Coins
 90 Goods
3x3
4.5
10
n/a
Level 3
Fireworks Shop
 4,250 Coins
 445 Coins
 100 Goods
3x3
 Time To Go Lunar or
 A Dynamite Meal!
4.45
n/a
n/a
Level 3
Ride Maintenance Shop
 7,500 Coins
 480 Coins
 100 Goods
3x3
4.8
16
n/a
Soft Serve Ice Cream Stand
 8,000 Coins
 448 Coins
 80 Goods
3x3
5.6
18
n/a
Produce Paradise
 12,500 Coins
 1,413 Coins
 253 Goods
5x5
 Level 40
5.58
n/a
City Dojo
 4,250 Coins
 495 Coins
 110 Goods
3x3
 750 Population
4.5
9
n/a
Level 3
French Restaurant
 4,500 Coins
 495 Coins
 110 Goods
3x3
4.5
10
 3,600 Coins
Level 3
Laundromat
 5,000 Coins
 515 Coins
 115 Goods
3x3
 1000 Population
4.48
10
 4,000 Coins
Tofu Burger
 5,000 Coins
 507 Coins
 115 Goods
3x3
 1100 Population
4.41
10
 4,000 Coins
Dance Studio
 5,300 Coins
 774 Coins
 120 Goods
3x3
/
6.45
7
 4,240 Coins
Level 3
Ku Drive-In
 300,000 Coins
 1,759 Coins
 330 Goods
4x4
 Level 55
5.33
171
n/a
Level 3
Song Bird Pet Shop
 150,000 Coins
 1,719 Coins
 320 Goods
3x3
 Level 50
5.37
88
n/a
Level 3
Elf Shoeshop
3x3
n/a
n/a
Bait Shop
3x3
n/a
n/a
Street Grill
 5,000 Coins
 540 Coins
 120 Goods
2x2
 Stuffed Pigeons
4.5
10
n/a
Sunglasses Store
 5,500 Coins
 534 Coins
 120 Goods
3x3
 1200 Population
4.45
11
 4,400 Coins
Level 3
Department Store
 8,000 Coins
 588 Coins
 135 Goods
4x4
 Level 13
4.36
14
 6,400 Coins
City Supermarket
 5,750 Coins
 569 Coins
 130 Goods
4x4
 1250 Population
4.38
11
 4,600 Coins
Zoo Cafeteria
 6,000 Coins
 585 Coins
 130 Goods
3x3
 Level 18
4.5
11
n/a
Level 3
Zoo Gift Shop
 5,500 Coins
 352 Coins
 80 Goods
3x3
 Level 20
4.4
16
n/a
French Cafe
 3,000 Coins
 660 Coins
 150 Goods
3x3
 Vive La France!
4.4
5
n/a

Level 3

Bowling Alley
 6,000 Coins
 765 Coins
 180 Goods
4x4
 Level 25
4.25
8
n/a
Level 3
Asobu Arcade
 90,000 Coins
 1,625 Coins
 300 Goods
4x4
 Level 23
5.42
n/a
n/a
Panini Shop
 6,300 Coins
 528 Coins
 120 Goods
3x3
4.4
12
 5,040 Coins
Italian Restaurant
 6,500 Coins
 645 Coins
 150 Goods
3x3
 1500 Population
4.3
11
 5,200 Coins

Level 3

Pizzeria
 6,700 Coins
 630 Coins
 140 Goods
3x3
4.5
11
 5,360 Coins
Cheese Market
 7,200 Coins
 690 Coins
 150 Goods
3x3
 Level 28
4.6
11
 5,760 Coins
Level 3
Jet Ski Shop
 9,000 Coins
 700 Coins
 140 Goods
3x3
 Level 31
5
13
n/a
Seafood Restaurant
 7,500 Coins
 609 Coins
 140 Goods
3x3
 15 Neighbors
4.35
13
 6,000 Coins
Tourist Shop
 17,500 Coins
 550 Coins
 100 Goods
3x3
 Level 40
5.5
32
n/a
Handbag Store
 10,000 Coins
 654 Coins
 120 Goods
3x3
 2000 Population
5.45
16
 8,000 Coins
Boat Shop
 9,000 Coins
 770 Coins
 140 Goods
3x3
 See Food Training
5.5
12
n/a
Taffy Shop
 14,000 Coins
 470 Coins
 90 Goods
3x3
 Level 35
5.22
30
n/a
Sushi Bar
 12,500 Coins
 605 Coins
 110 Goods
3x3
 2300 Population
5.5
21
 10,000 Coins
Wedding Store
 15,000 Coins
 702 Coins
 130 Goods
3x3
 2750 Population
5.4
22
 12,000 Coins
Cinema
 100,000 Coins
 749 Coins
 140 Goods
4x4
 Cinema Investment
5.35
134
 80,000 Coins
Chic Boutique
 250,000 Coins
 795 Coins
 150 Goods
3x3
 Level 55
5.3
315
 200,000 Coins
Skate Shop
 300,000 Coins
 928 Coins
 175 Goods
3x3
 Level 55
5.3
324
n/a
Luggage Store
 200,000 Coins
 636 Coins
 120 Goods
3x3
 Level 53
5.3
315
 160,000 Coins
Jewelry Store
 500,000 Coins
 830 Coins
 155 Goods
3x3
 Level 60
5.35
603
 400,000 Coins
Hotel Restaurant
 600,000 Coins
 851 Coins
 155 Goods
4x4
 Cruise Control!
5.49
706
n/a
Furniture Store
 750,000 Coins
 864 Coins
 160 Goods
3x3
 8000 Population
5.4
869
 600,000 Coins
Music Store
 900,000 Coins
 881 Coins
 163 Goods
3x3
 9000 Population
5.4
1022
 720,000 Coins
Tower Eats
 1,000,000 Coins
 900 Coins
 165 Goods
4x4
 10 Population
5.45
1112
 800,000 Coins
Toy Tower
 1,750,000 Coins
 2,393 Coins
 475 Goods
3x3
 Level 45
5.03
732
n/a
Level 3
Watch Shop
 18,500 Coins
 534 Coins
 120 Goods
3x3
4.45
0
n/a
Donut Shop
 42,000 Coins
 702 Coins
 130 Goods
3x3
5.4
60
n/a
Magic Shop
 33,000 Coins
 702 Coins
 130 Goods
3x3
5.4
48
n/a
Camera Shop
 22,000 Coins
 668 Coins
 150 Goods
3x3
4.45
33
n/a
Lamp Store
 10,000 Coins or
 110 zCoins
 512 Coins
 115 Goods
3x3
 50 zLevel
4.45
n/a
DVD Rental Store
 120 zCoins
 493 Coins
 110 Goods
3x3
 50 zLevel
4.48
n/a
Jeans Store
 120 zCoins
 473 Coins
 105 Goods
3x3
 40 zLevel
4.5
n/a
Corner Store
Pea Collection Turn-in
 270 Coins
 60 Goods
3x3
Pea Collection
4.5
0
 4,000 Coins
Tavern
Down-Town Collection Turn-in
 352 Coins
 80 Goods
3x3
Down Town Collection
4.4
0
 4,000 Coins
Tuxedo Rental
Jet Setter Collection Turn-in
 575 Coins
 125 Goods
3x3
Jet Setter Collection
4.6
0
 8,000 Coins
Western Saloon
Super Villains Collection Turn-in
 720 Coins
 120 Goods
3x3
Super Villains Collection
6
0
n/a
Bed And Breakfast
Win from Daily Bonus 5th day
 609 Coins
 140 Goods
4x4
Daily Bonus
4.35
0
n/a
Farmer's Market
not buyable
 280 Coins
 60 Goods
4x4
CityVille Hometown:  Level 7
4.67
0
n/a
Hardware Store
not buyable
 704 Coins
 160 Goods
3x3
 Hardware Store!
4.4
0
n/a
Sporting Store
not buyable
 555 Coins
 100 Goods
3x3
 Sporting News!
5.55
n/a
n/a
Hot Dog Kiosk
not buyable
 450 Coins
 90 Goods
2x2
 Eating Contest!
5
n/a
n/a
Scuba Dive Shop
not buyable
 853 Coins
 155 Goods
3x3
 New Opportunities
5.5
n/a
The Claw
not buyable
 660 Coins
 120 Goods
3x3
 Start Your Engines!
5.5
0
n/a
Wood Shop
not buyable
 678 Coins
 150 Goods
3x3
 For The Birds
4.37
n/a
n/a
Garden Shop
not buyable
 1,500 Coins
 300 Goods
3x3
 Blow Them Away!
5
0
n/a
T-Shirt Shop
not buyable
 368 Coins
 80 Goods
3x3
Mall drop
4.6
n/a
n/a
Sneaker Shop
not buyable
 150 Coins
 40 Goods
3x3
Mall drop
3.75
n/a
n/a
Chocolate Kiosk
not buyable
 610 Coins
 130 Goods
2x2
Mall drop
4.69
n/a
n/a
Aztec Restaurant
not buyable
 515 Coins
 100 Goods
3x3
Mall drop
5.15
0
n/a
Mall Department Store
not buyable
 755 Coins
 150 Goods
4x4
Mall drop
5.03
0
n/a
Beauty Salon
not buyable
 925 Coins
 150 Goods
3x3
Mall 2 drop
6.17
n/a
n/a
Cook Ware
not buyable
 824 Coins
 130 Goods
3x3
Mall 2 drop
6.34
n/a
n/a
Print Shop
not buyable
 714 Coins
 110 Goods
3x3
Mall 2 drop
6.49
n/a
n/a
Mattress Store
not buyable
 612 Coins
 90 Goods
3x3
Mall 2 drop
6.8
n/a
n/a
Tea Shop
not buyable
 1,023 Coins
 170 Goods
3x3
Mall 2 drop
6.02
n/a
n/a
Bronze Fashion
not buyable
 300 Goods
 1617 Coins
3x3
Famous Mall drop
5.39
Bronze Sports
not buyable
 315 Goods
 1698 Coins
3x3
Famous Mall drop
5.39
Bronze Gourmet
not buyable
 305 Goods
 1644 Coins
3x3
Famous Mall drop
5.39
Bronze Gadget
not buyable
 310 Goods
 1671 Coins
3x3
Famous Mall drop
5.39
Bronze Toys
not buyable
 320 Goods
 1725 Coins
3x3
Famous Mall drop
5.39
Silver Fashion
not buyable
 380 Goods
 1984 Coins
3x3
Famous Mall drop
5.22
Silver Sports
not buyable
 395 Goods
 2062 Coins
3x3
Famous Mall drop
5.22
Silver Gourmet
not buyable
 385 Goods
 2010 Coins
3x3
Famous Mall drop
5.22
Silver Gadget
not buyable
 390 Goods
 2036 Coins
3x3
Famous Mall drop
5.22
Silver Toys
not buyable
 400 Goods
 2088 Coins
3x3
Famous Mall drop
5.22
Gold Fashion
not buyable
 485 Goods
 2435 Coins
3x3
Famous Mall drop
5.02
Gold Sports
not buyable
 500 Goods
 2510 Coins
3x3
Famous Mall drop
5.02
Gold Gourmet
not buyable
 490 Goods
 2460 Coins
3x3
Famous Mall drop
5.02
Gold Gadget
not buyable
 495 Goods
 2485 Coins
3x3
Famous Mall drop
5.02
Gold Toys
not buyable
 505 Goods
 2535 Coins
3x3
Famous Mall drop
5.02
Spa
not buyable
 749 Coins
 140 Goods
4x4
Valentine's Day Event (2011)/Hotel Reward
5.35
0
n/a
Arcade
Obtain from Hotels or Catch Tonie The Techie
 800 Coins
 210 Goods
3x3
Hotel VIP Reward/Tonie The Techie
3.8
0
n/a
Driving Range
Obtain from Hotel
 570 Coins
 150 Goods
4x4
Hotel Reward
3.8
0
n/a
Mud Bath
Obtain from Hotel
 750 Coins
 130 Goods
3x3
Hotel VIP Reward
5.76
0
n/a
Racquetball Club
Obtain from Hotel
 1,200 Coins
 290 Goods
3x3
Hotel VIP Reward
4.1
0
n/a
Glass Blowing Shop
not buyable
 1,804 Coins
 340 Goods
3x3

Sailboat Hotel VIP Reward

5.31
n/a
n/a
Balloon Store
 30 Cash
 1,181 Coins
 220 Goods
3x3
5.37
n/a
n/a
Hot Cocoa Shop
 4000 Coins
 441 Coins
 100 Goods
3x3
4.41
10
 3,200 Coins
Appliances Store
 25 Cash
 405 Coins
 90 Goods
3x3
Also a Reward from  Build A Second Mall!
4.5
n/a
n/a
Sports Car Dealership
 32 Cash
 830 Coins
 155 Goods
4x4
5.35
n/a
n/a
Tonga Room
 35 Cash
 999 Coins
 165 Goods
3x3
6.05
n/a
n/a
Level 3
Swimwear Shop
 30 Cash
 530 Coins
 100 Goods
4x4
5.3
n/a
n/a
Fireworks Tent
 30 Cash
 920 Coins
 200 Goods
3x3
4.6
n/a
n/a
Seasonal Clothing
 20 Cash
 368 Coins
 80 Goods
3x3
4.6
n/a
n/a
Perfume Shop
 32 Cash
 800 Coins
 150 Goods
3x3
5.33
n/a
n/a
Extreme Sports Store
 33 Cash
 780 Coins
 130 Goods
3x3
6
n/a
 26 Cash
Cable Car Restaurant
 40 Cash
 795 Coins
 150 Goods
3x3
5.3
n/a
n/a
Italian Ice Parlor
 25 Cash
 715 Coins
 130 Goods
3x3
5.5
n/a
 20 Cash
Tapas Restaurant
 35 Cash
 1100 Coins
 200 Goods
3x3
5.5
n/a
n/a
EV Charging Station
not buyable
 2,393 Coins
 475 Goods
4x4
 Down To Earth
5.04
n/a
n/a
Grooming Parlor
not buyable
 1,580 Coins
 290 Goods
3x3
Rescue Penelope the Poodle
5.45
n/a
n/a
Salvador's
not buyable
 3,148 Coins
 430 Goods
4x4
 High Roller
7.32
n/a
n/a
Level 3
Mega Nail Salon
not buyable
 3,050 Coins
 410 Goods
4x4
 Parental Advisory
7.44
n/a
n/a
Level 3
Bella B Store
not buyable
 3,382 Coins
 480 Goods
4x4
 Triple Threat
7.04
n/a
n/a
Level 3
Valor Industries
not buyable
 3,472 Coins
 500 Goods
3x3
 Case Closed
6.94
n/a
n/a
Thrift Shop
 7,000 Coins
 1,048 Coins
 175 Goods
3x3
5.99
n/a
n/a
Intuition Technologies
 80 Cash
 3,000 Coins
 400 Goods
3x3
7.5
n/a
n/a
Level 3
Luxury Shopping Centre
not buyable
 3,290 Coins
 460 Goods
4x4
 Growing Pains
7.15
n/a
n/a
Big Play Brewery
 46 Cash
 1,781 Coins
 335 Goods
4x4
 Icing On The Cake
5.32
n/a
n/a
Gas Station
 3,000 Coins
 375 Coins
 75 Goods
3x3
5
8
n/a
Body Of Work
 5,750,000 Coins
 3,075 Coins
 415 Goods
3x3
7.41
1870
n/a
Level 3
Intent Insurance
 7,250,000 Coins
 3,219 Coins
 445 Goods
3x3
7.23
2253
n/a
Level 3
Egg Nog Shop
 600 Coins
 130 Coins
 50 Goods
3x3
2.6
5
n/a
Level 3
Fish Market
 55 Cash
 1,980 Coins
 380 Goods
4x4
5.21
n/a
n/a
Car Wash
not buyable
 799 Coins
 125 Goods
4x4
 Car Collector!
6.39
n/a
n/a
Theater Prop Shop
 6,100 Coins
 930 Coins
 150 Goods
3x3
Winter Event (2011)
6.2
7
n/a
Nutcracker Shop
 7,200 Coins
 1,072 Coins
 180 Goods
4x4
Winter Event (2011)
5.96
7
n/a
Exploratorium
 40 Cash
 1,648 Coins
 305 Goods
3x3
5.4
n/a
n/a
Level 3
Car Charging Station
 1,750,000 Coins
 2,729 Coins
 475 Goods
3x3
5.75
n/a
n/a
Level 3
Internet Provider
 50 Cash
 1,869 Coins
 335 Goods
3x3
5.58
n/a
n/a
Level 3
Web Company
 10,000 Coins
 1,507 Coins
 274 Goods
5x5
5.5
n/a
n/a
Level 3
Silicon Central
 5,800 Coins
 875 Coins
 140 Goods
3x3
6.25
n/a
n/a
Level 3
Snowmobile Mart
 96,000 Coins
 773 Coins
 120 Goods
3x3
6.44
n/a
n/a
Slot Car Shop
 84,000 Coins
 667 Coins
 100 Goods
3x3
6.67
n/a
n/a
Street Grill
 5,000 Coins
 540 Coins
 120 Goods
2x2
 Stuffed Pigeons
4.5
10
n/a
Fun Slide
 250 Tickets
 1,500 Coins
 300 Goods
3x3
Street Carnival
5
n/a
n/a
Rocket Ship Ride
 400 Tickets
 2,800 Coins
 500 Goods
4x4
Street Carnival
5.6
n/a
n/a
Sky Diving School
 75 Shells
 1,500 Coins
 300 Goods
3x3
Surf 'N Shop
5
n/a
n/a
Ride Maintenance Shop
 7,500 Coins
 480 Coins
 100 Goods
3x3
4.8
16
n/a
Soft Serve Ice Cream Stand
 8,000 Coins
 448 Coins
 80 Goods
3x3
5.6
18
Balloon Store
 30 Cash
 1,181 Coins
 220 Goods
3x3
5.37
n/a
The Claw
not buyable
 660 Coins
 120 Goods
3x3
 Start Your Engines!
5.5
0
n/a
Karaoke Club
 20 Cash
 1,000 Coins
 200 Goods
3x3
Limited Edition
5
n/a
n/a
Movie Megaplex
 46 Cash
 3,000 Coins
 400 Goods
6x6
Limited Edition
Sale Item
7.5
n/a
n/a
Drive-In Movie Theater
 1,500 Coins
no longer available
 270 Coins
 60 Goods
4x4
 Kung Fu Panda 2!
4.5
6
n/a
Greasy Spoon
not buyable
 1,001 Coins
 180 Goods
3x3
Mystery Crate
5.56
n/a
n/a
Jet Ski Shop
 9,000 Coins
 700 Coins
 140 Goods
3x3
 Level 31
5
13
n/a
Taffy Shop
 14,000 Coins
 470 Coins
 90 Goods
3x3
 Level 35
5.22
30
Skate Shop
 300,000 Coins
 928 Coins
 175 Goods
3x3
 Level 55
5.3
324
n/a
Oddities Museum
 25 Cash
 784 Coins
 140 Goods
3x3
Summer Fun Event
5.6
n/a
n/a
Outdoor Hall
 35 Cash
 2,500 Coins
 500 Goods
4x4
Germany Event
5
n/a
n/a
French Bakery
 35 Cash
 660 Coins
 120 Goods
3x3
Bastille Day/French Pack
5.5
n/a
Chippy Shop
 35 Cash
 1,100 Coins
 200 Goods
3x3
British Event
5.5
n/a
n/a
Balalaika Shop
 65,000 Coins
 1,648 Coins
 305 Goods
3x3
5.4
n/a
n/a
Level 3
Glass Shop
 65,000 Coins
 1,648 Coins
 305 Goods
3x3
5.4
n/a
n/a
Level 3
Venetian Mask Shop
 8,000 Coins
 1,167 Coins
 200 Goods
3x3
5.84
n/a
n/a
Level 3
Venetian Restaurant
 550,000 Coins
 1,869 Coins
 355 Goods
3x3
5.26
n/a
n/a
Level 3
Buffet Restaurant
not buyable
 1,980 Coins
 380 Goods
4x4
 Moving Up In The World
5.21
n/a
n/a
Robot Store
 1,000 Coins
 167 Coins
 25 Goods
3x3
6.68
n/a
n/a
Level 3
Bike Share Shop
 40 Cash
 1,648 Coins
 305 Goods
3x3
5.4
n/a
n/a
Level 3
Shanghai Center
not buyable
 3,243 Coins
 450 Goods
6x4
 Build The Great Pyramid Wonder!
7.21
n/a
n/a
Science Center
not buyable
 3,245 Coins
 450 Goods
4x4
 Tesla Coil Wonder
7.21
n/a
n/a
Italian Plaza
not buyable
 2,067 Coins
 400 Goods
5x5
 Life In The Fast Lane!
5.17
n/a
n/a
Parisian Bakery
not buyable
 2,111 Coins
 410 Goods
5x5
 Hot Off The Grill!
5.15
n/a
n/a
Hades Grill
 6,600 Coins
 999 Coins
 165 Goods
3x3
Greek Event
6.05
7
n/a
Greek Carpenter
 100,000 Coins
 1,670 Coins
 310 Goods
3x3
Greek Event
5.39
60
n/a
Club Monaco
not buyable
 1,167 Coins
 200 Goods
4x4
Greek Mystery Crate
5.84
n/a
n/a
Circus Snack Shack
 12,500 Coins
 1,413 Coins
 253 Goods
3x3
Circus Event
5.58
16
n/a
The Far Out Freak Show
 35 Cash
 999 Coins
 165 Goods
4x4
Circus Event
6.05
n/a
n/a
Sideshow Souvenirs
not buyable
 999 Coins
 165 Goods
3x3
 Clownward Spiral
6.05
n/a
n/a
Produce Paradise
 12,500 Coins
 1,413 Coins
 253 Goods
5x5
 Level 40
5.58
n/a
Saddles Shop
 9,000 Coins
 1,284 Coins
 225 Goods
3x3
Farm Event
5.71
8
n/a
Tractor Shop
 30 Cash
 876 Coins
 140 Goods
3x3
Farm Event
6.25
n/a
n/a
Trophy Store
 20,000 Coins
 1,445 Coins
 260 Goods
3x3
Sports Event
5.56
n/a
Archery Store
 350,000 Coins
 1,781 Coins
 331 Goods
3x3
Sports Event
5.38
n/a
Cantina
 3,800 Coins
 640 Coins
 95 Goods
3x3
Mexico Event
6.74
6
n/a
Sombrero Store
 6,800 Coins
 1,024 Coins
 170 Goods
3x3
Mexico Event
6.02
7
n/a
House of Churros
 40 Cash
 1,648 Coins
 305 Goods
3x3
Mexico Event
5.40
n/a
n/a
Russian Tea Room
 30 Cash
 1,468 Coins
 265 Goods
3x3
Russian Event
5.53
n/a
n/a
Caviar Shop
 65 Cash
 2,198 Coins
 430 Goods
3x3
Russian Event
5.11
n/a
n/a
Helicopter Tours
 70 Cash
 2,306 Coins
 455 Goods
4x4
Metropolis Event
5.07
n/a
n/a
Citizen Bean
 84 Cash
 3,099 Coins
 420 Goods
4x4
Metropolis Event
7.38
n/a
n/a
Urban Beans
not buyable
 1,670 Coins
 310 Goods
4x4
Free Gift Offer:
 179 Cash Package
5.39
n/a
n/a
Sale-Mart
 92 Cash
 3,290 Coins
 460 Goods
4x4
Campaign Rally Sale
7.15
n/a
n/a
Skillets and Things
 7,400 Coins
 1,096 Coins
 185 Goods
3x3
Metropolis Event
5.92
7
n/a
Tree Nursery
 45 Cash
 1,759 Coins
 330 Goods
4x4
Eco Event
5.33
n/a
n/a
Grooming Parlor
not buyable
 1,580 Coins
 290 Goods
3x3
Rescue Penelope the Poodle
5.45
n/a
n/a
Casino
not buyable
 3,243 Coins
 450 Goods
5x5
Mafia Wars 2 Promotion
7.21
n/a
n/a
Real Estate Showroom
Zynga Game Cards
no longer available
 1000 Coins
 170 Goods
3x3
GameStop Promotion
5.88
n/a
n/a
Blood Bank
 4,000 Coins