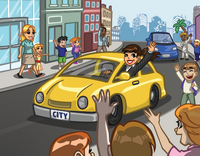 Cars is a feature in CityVille that was introduced on November 28, 2011. This feature is available to players

 Level 27+. To get cars in your city, you need to place and complete the Garage from the

Start Your Engines! Goal or the Custom Car Shop from

 Car Collector! Goal.
With a finished Garage or Custom Car Shop, supply businesses and customers will visit in their cars. Cars will not always spawn immediately, please wait for a couple of minutes. Businesses and residences connected to sidewalks will have cars that spawn on nearby attached roads. However, you do have to have roads in your city in order to see cars. Cars will appear for the same reason citizens do - you have a store open and supplied.
Note that you can collect from cars while visiting neighbors. If your city has few roads, going to a friend's city - who has lots of roads - may be your best option. Your own Downtown is also a good bet, since it comes covered in roads. Having housing far down the road from the store you supply also gives you more time to click the cars.
Car crafting was introduced on December 26, 2011. Players can build cars via the Custom Car Shop. You can work on building all the cars at the same time by collecting car parts. You only need to build each custom car once and they will continue to appear in your city.
Car Payouts
Edit
To collect Car Payouts, click on the cars driving in your city with a coin on top. They will appear near your supplied businesses. Collecting from cars will not consume any energy. Clicking on cars in Neighbors' cities will also give payout.
The car payout is determined by the car type and the number of buildings attached to the road on which the car is traveling. Community Buildings placed next to roads will also have an effect.
When visiting businesses, all cars are worth more than a single pedestrian. The more valuable the car, the more people the car counts as. For instance, a Yellow Bug is worth 4 customers. Referred to as having 4x Business Fill Speed.
Car Jacks have a 10% chance of dropping when you collect from car payouts when the
 Artistic License goal is in progress.
After completing the Custom Car Shop, you will have a chance of getting Car Parts by clicking on moving cars. This allows you to build any new cars that become available. As of Zynga's Release Notes on March 9, 2012, the car part drop rate appears to be 100%, up from 40%.
Community Buildings
Edit
Businesses
Edit
| Image | Name | Cost | Supply | Earnings | Other Info |
| --- | --- | --- | --- | --- | --- |
| | Gas Station |  5,000 Coins |  75 Goods |  375 Coins | / |
| | Car Wash | not buyable |  125 Goods |  799 Coins | Reward from  Car Collector! |
| | EV Charging Station | not buyable |  475 Goods |  2393 Coins | Reward from  Run For Governor Mission: 25px More Power To You! |
Car Parts
Edit
Car Parts are items needed to build cars in the Custom Car Shop. Players can obtain specific car parts by asking friends for them, or obtaining them from car payouts. Clicking on a moving car currently gives a 40% chance of obtaining a part.
Currently, the only cars that can be built in the Custom Car Shop are:

Below are the required car parts needed to complete a type of car.
Community content is available under
CC-BY-SA
unless otherwise noted.