---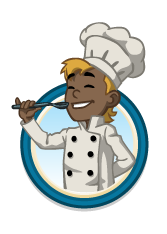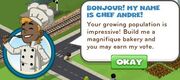 Chef Andre is a non-playable character who serves as one of the game's beginning guides. He is responsible for giving players various goals that introduce them to various parts of the game, such as building their first business and visiting neighbors.
Chef Andre's story
Edit
Chef Andre is a French chef who offers their vote for the election, as long as the player builds him a "magnifique" bakery. However, he is curious to see how other cities' bakeries are compared to his and demands the player visits one neighbor (he suggests Samantha) to find out. Clearly a high maintenance character, he then demands "the finest chocolate".
See also: Goals Given by Chef Andre
Build A BakeryEdit
See also:

 Build A Bakery!
Chef Andre asks players to buy a bakery, supply a bakery with goods and collect revenue from a bakery. The reward is 25 goods.
The Pastry Tour!Edit
See also:

 The Pastry Tour!
Chef Andre wants to see how his bakery "stacks up" against other bakeries in different cities, so he asks the players to visit a neighbor so he can investigate. Whilst there, the player is asked to click on one business, one house and harvest one crop. The reward is 25 goods.
The Fussy Baker!Edit
See also:

 The Fussy Baker!
The Fussy Baker! requires the player to ask their friends to send "the finest chocolate". They can also purchase the chocolate for 2 cash. To receive the chocolate, the player must post a plea to their friends on their News Feed, which will come with a link the friends must click to receive their chocolate. The reward is 1 energy.