See also:

 City Hall 2,

 City Hall 3
The
 City Hall is a 4x4 sized community building available in CityVille. It unlocks when the player completes the goal

 Plant A City Flag. It costs 1,000 coins, 4 energy, and 3 Staff Members or 1 City Cash each to build. When completed, your population cap is increased by 50. Collecting rent from it earns 250 coins, which is unaffected by payout boosts from decorations.
The City Hall is the first Community Building in the game which is used to raise the Population Limit of your city. The City Hall only raises the population of your city by 50, the lowest amount for any community building, tied with the Post Office. While it only slightly raises the population cap it is the cheapest community building. Completing the goal

 Plant A City Flag is a requisite to building your City Hall. The City Hall requires 3 staff members to open, if you choose not to staff the City Hall with your neighbors you may pay 1 Cash to fill the positions.
there are 3 staff need in this building
1.council member
2.treasurer
3.city clerk
Completing the goal
 A Post Office! was once required in order for you to build your City Hall.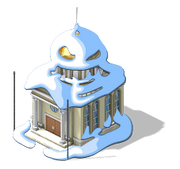 Harvesting Bonuses
Edit
| Chance | Reward |
| --- | --- |
| 100% | 5× 50 Coins |

| Chance | Reward |
| --- | --- |
| 50% |  1 XP |
| 50% |  2 XP |
For more information see City Hall/Upgrade
As of the 24th April, 2011 the City Hall can now be upgraded to a level 2, and 3 version. Allowing a larger population cap, more coins and a chance of receiving Zoning Permit from collection, and a better chance of receiving energy!
City Hall Level 1 gives you 50 population
City Hall Level 2 gives you 150 population
City Hall Level 3 gives you 500 population
(Collect from a City Hall Level 2, five times to upgrade to City Hall Level 3)