Eye of the Tiger!

Image © Zynga
Goal Information
Requirements
 Level 20
Release Date
May 30, 2012
Description
All eyes are on your new show! It looks like you're ready to claw your way to the top of Broadway!
Mission from
Bella
Tasks
Complete Theater Step 2 of 3
Collect from Jungle Habitat
( 5 Cash)
Master Golden Carrots
( 25 Cash)
Rewards
XP
 100 XP
Coins
 50,000 Coins
Goal Completion
Description
Wow, the cast of The Tiger Prince is huge! This show really is fit for a prince!
Questline

Eye of the Tiger! is a goal in CityVille.
Bella says: "Once everyone sees your pride of talented tigers, you're going to be the pride of Broadway! I can't wait for the show!"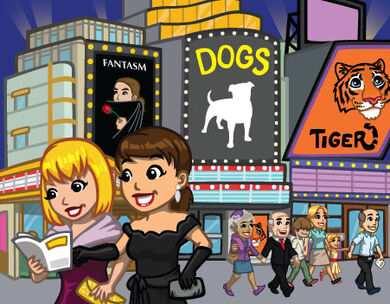 City is Broadway Bound with its new show, The Tiger Prince!


Player loved The Tiger Prince so much that they bought the soundtrack. And the t-shirt. And a poster signed by the whole cast. I think they may have a problem.