Let's Dance!

Image © Zynga
Goal Information
Requirements
 Level 20
Release Date
28 May 2012
Description
The choreography in this show is spectacular! Let's get the cast some dance shoes so they can rehearse!
Mission from
Bella
Tasks
Complete Theater Step 2 of 3
( 40 Cash)
Collect from Prodigy Studios 5 times
( 20 Cash)
Harvest 50 Golden Carrots
( 20 Cash)
Rewards
XP
 100 XP
Coins
 50,000 Coins
Goal Completion
Description
Wow! You're really a dancing machine! I saw you rehearsing with the cast and I think you could be a star!
Questline

Let's Dance! is a goal in CityVille.
Bella says: "The cast of Dogs is ready to sing their hearts out! Let's get them some voice lessons and finish the theater for them!"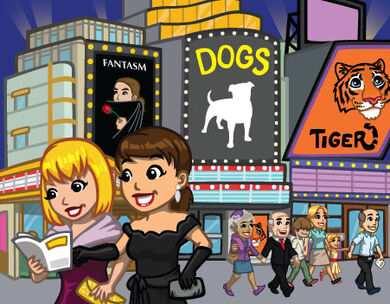 City is Broadway Bound with its new show, Dogs!


Player really enjoyed the performance of Dogs the musical. They especially enjoyed the scene where the lead dog learned how to sing for treats.