The Museum is a 4x4 sized community building available in CityVille. It unlocks when the player completes the goal Harvest Bird Feed and reaches level 15. It costs 8,000 coins, 6 energy, and 25px 1× Marble,

 1× City Seal,

 1× Building Grant,

 1× Gold Plating, and

 1× Ribbon to build. When completed, your population cap is increased by 300. Collecting rent from it earns 250 coins, which is unaffected by payout boosts from decorations.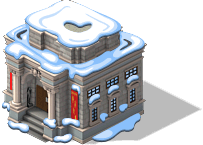 Harvesting Bonuses
Edit
| Chance | Reward |
| --- | --- |
| 100% | 5× 50 Coins |
| Chance | Reward |
| --- | --- |
| 50% |  1 XP |
| 50% |  2 XP |