---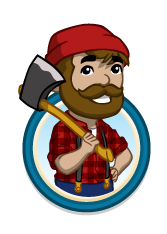 Paul is a non-playable character who serves as one of the game's beginning guides. He is responsible for giving players various goals that help them progress throughout the game, particularly themed around the wild trees which serve as obstacles in players' cities. He is also responsible for the outdoors and nature related goals.
Paul's Story
Edit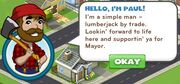 Paul is a simple man - a lumberjack by trade and a family man. He promises to support the player in their bid to become Mayor. He likes chopping down trees and asks for assistance with his chopping in exchange for his help with the Mayoral campaign. Eventually, Paul explains that his family is "growing" and he needs a good home. He says his whole family will support the bid for Mayor if he builds them a "good home". He also asks for crops for a feast.
Clear Trees!Edit
Paul asks the player to clear three wild trees. These can be found around the outskirts of the city and cost 1 energy point per tree to chop. Paul will appear and chop the trees when they have been clicked on. The reward is 100 coins. If players have no trees, perhaps because they have already chopped them, they will not be able to complete the goal until they have purchased an expansion.
Clear Neighbor's Trees!Edit
In this goal, players are required to chop 5 trees from neighbors cities. All 5 trees can be chopped in the same city, or from different cities. Chopping trees in neighbor's cities requires enough available "help actions". Paul encourages the player to do so as it is "neighborly". The reward is 50 goods.
Build Paul A HomeEdit
Paul asks the player to place and build him a Country Home for his family along with 5 City Fences. Therefore, any Country Homes built earlier will not count towards this goal. The reward is 100 coins.
Family Feast!Edit
Players need to harvest 4 crops to give Paul a family feast. They can be any kind of crop and the reward is 1 energy.
Other Goals
Edit
Santa Paul
Edit
Santa Paul is responsible for giving you the Holiday Tree Questline during the Holiday Event (2010).