Power Your City

Image © Zynga
Goal Information
Requirements
 Level 50
Description
Build this dam to increase your energy bar (you may have to expand to place it, but you'll get a little extra land once you do!)
Mission from
Jack
Tasks
Place your Dam
Plant 15 crops
( 5 Cash)
Rewards
Goods
 400 Goods
Questline

Power Your City is one of the goals available in CityVille.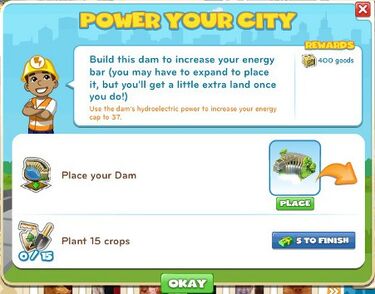 Note: To place your dam you need to expand on the LEFT side of the river. After placing the dam, you will get the right expansion for free.
[

]
Player just completed "Power Your City" in Cityville!


Player earned a big reward for their hard work and there's plenty to share with friends.