See Train!

Image © Zynga
Goal Information
Requirements
 Level 20
Release Date
May 29, 2012
Description
Train is headed to your city to put on a huge concert! Click Here for a welcome message and don't forget to LIKE our fan page.
Mission from
Patrick
Tasks
Place & Complete the Encore Amphitheater
Collect 8 Train Tour Posters
( 3 Cash)
Hold Train Concerts 3 times in your Encore Amphitheater
( 9 Cash)
Rewards
Energy
 5 Energy
Goods
 2,000 Goods
Goal Completion
Description
Wow! The Train concert was amazing! I can't believe they gave us backstage passes! This is so cool!
Questline
See Train! is a limited time goal in CityVille.
Patrick says: "Summer's around the corner and your citizens need a place to go to see their favorite bands live and in concert!"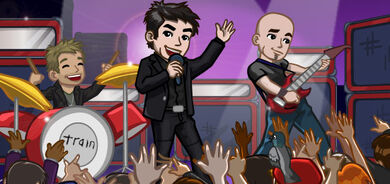 City is treating itself to a Train concert at the new Encore Amphitheater!


Player can't believe that they got backstage passes at the Train concert. They also can't believe that Train isn't mad that they screamed out "Free Bird" at the show.