Set the Stage!

Image © Zynga
Goal Information
Requirements
 Level 20
Release Date
28 May 2012
Description
Programs! Get your programs! The buzz about this show is really heating up! I can't wait to finally see it!
Mission from
Bella
Tasks
Complete Theater Step 3 of 3
( 40 Cash)
Ask friends for 20 Playbills
( 30 Cash)
Collect from Dogs Theater 5 times
( 25 Cash)
Rewards
XP
 200 XP
Coins
 100,000 Coins
Goal Completion
Description
The critics love the show! They're calling Dogs the pick of the litter! Looks like the dog's are out!
Questline

Set the Stage! is a goal in CityVille.
Bella says: "Opening night is finally here! The cast is ready, the stage is set, and people are lining up to see the premiere of Dogs!"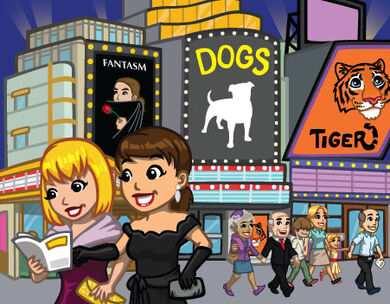 City is Broadway Bound with its new show, Dogs!


Player really enjoyed the performance of Dogs the musical. They especially enjoyed the song where the male lead sang about his obsession with chasing his own tail.