Stretch The Truth!

Image © Zynga
Goal Information
Requirements
 Level 60
Release Date
May 27, 2012
Description
Honestly, I could pay for the limo by myself but I'd rather get a few friends to chip in! Let's go visit them!
Mission from
Salvador
Tasks
Have a Level 3 Gala
Ask friends for 30 Limo Grills
( 90 Cash)
Collect from Star Houses
( 24 Cash)
Rewards
Coins
 150,000 Coins
Energy
 10 Energy
Goal Completion
Description
It helps to have a few powerful friends from time to time. Good thing most of my friends are big stars!
Questline

Stretch The Truth! is a Downtown and normal city goal in CityVille.
Salvador says: "I plan on making quite a big entrance at the Red Carpet Gala! And I plan on making it in a fancy stretch limousine!"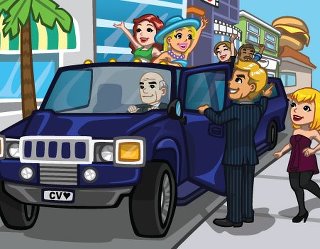 City is making quite the entrance at the Red Carpet Gala!


Player arrived at the Red Carpet Gala in a forty foot stretch limo that had a hot tub in the back. You know, because they don't like to stand out from the crowd.