The Tiger's Share

Image © Zynga
Goal Information
Requirements
 Level 20
Release Date
May 30, 2012
Description
If The Tiger Prince is a success, you're going to get the tiger's share of the credit! Come on! Let's get to work!
Mission from
Bella Bennett
Tasks
Complete Theater Step 1 of 3
Upgrade Fine Arts Theatre
( 50 Cash)
Place Drummers
( 5 Cash)
Rewards
Coins
 25,000 Coins
Goods
 1,000 Goods
Goal Completion
Description
Now that you've found some amazing drummers, we're one step closer to performing The Tiger Prince!
Questline

The Tiger's Share is a goal in CityVille.
Bella says: "There's a new prince of the Broadway jungle that's roaring its way into your city! It's time to put on The Tiger Prince!"
Note: Task 2 incorrectly states Fine Arts Theater when it should be the Fine Arts Theatre as shown here. Some players, however, may not be able to complete this task as the goal required to unlock the building was not completed prior to its removal.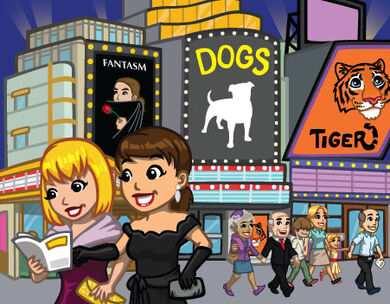 City is Broadway Bound with its new show, The Tiger Prince!


Player was happy to get front row seats to The Tiger Prince. Although, it was a little unnerving to sit that close to thirty actors dressed like wild animals.