Toast of the Town!

Image © Zynga
Goal Information
Requirements
 Level 60
Release Date
May 27, 2012
Description
When I step out of the backseat of my limo, I'm going to be the toast of the town. I hope the paparazzi see me!
Mission from
Salvador
Tasks
Collect from 6 Rio Planes at the Passenger Terminal
( 30 Cash)
Collect 5 times from Tower Eats
( 50 Cash)
Supply Suit Yourself
( 36 Cash)
Rewards
XP
 200 XP
Premium Goods
 2,000 Premium Goods
Goal Completion
Description
I love my new suit! Now I'm definitely going to catch the paparazzi's eye when I step out of my limo tonight!
Questline

Toast of the Town! is a Downtown and normal city goal in CityVille.
Salvador says: "When everyone sees me arrive in my amazing stretch limo, their jaws are going to drop! I can't wait to see their faces!"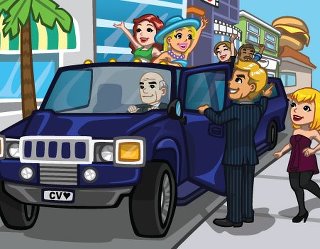 City is making quite the entrance at the Red Carpet Gala!


Player got to the Red Carpet Gala extremely late. Mainly because they spent two hours trying to find a place to park their ridiculously long stretch limo.