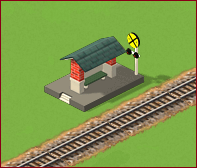 See also: Train
The Train Platform is an immobile, and unremovable 3x3 decoration in CityVille. This is where the train stops at to do business. It is one of the inital decorations that come with the city land when the game begins. It does not give any payout boost. You can now upgrade this by starting the

 Upgrade Your Train goal.
Once you have five or more neighbors, clicking on the Train Platform opens the train schedules at the bottom of the game space.
Hovering over the Train Platform will give the player a popup informing them whether the train is ready to depart or how long until the train will be back from its trip.
When you supply Coins or Goods, after a period of time that you chose (i.e. 4 Hours) you will get the opposite. If you chose to supply Coins, you will get Goods, and vice-versa. Upgrading the Platform adds the option of trading Goods for Tourists and Coins.
Community content is available under
CC-BY-SA
unless otherwise noted.