Who Let the Dogs Out?

Image © Zynga
Goal Information
Requirements
 Level 20
Release Date
28 May 2012
Description
Your citizens have heard that Dogs the musical is coming to town! Let's get to work and open the theater!
Mission from
Bella
Tasks
Complete Theater Step 1 of 3
( 40 Cash)
Collect from 25 London Liners Ship Routes
( 25 Cash)
Ask for 10 Costumes from friends
( 40 Cash)
Rewards
Coins
 25000 Coins
Goods
 1000 Goods
Goal Completion
Description
Let's see if we can teach an old dog new tricks! Come on! Let's start spreading the word about the hit show, Dogs!
Questline

Who Let the Dogs Out? is a goal in CityVille.
Bella says: "It's time for your city to take center stage and host some of Broadway's most famous shows! Let's start with Dogs!"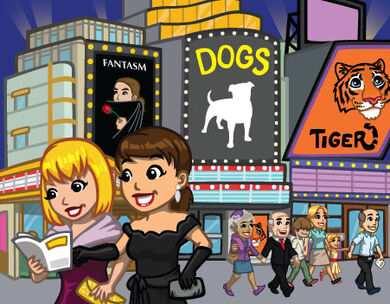 City is Broadway Bound with its new show, Dogs!


Player really enjoyed the performance of Dogs the musical. They especially enjoyed the dream sequence where the cast looked for a buried bone for nine minutes.